If you've been through any of our other Trading exchange reviews, you probably will find a slight difference between them, and this LocalBitcoins review.
Before getting deeper into the details, note that we will obviously answer the same questions as we do with our other reviews, which are:
But before all that, let's address the basic difference between LocalBitcoins and the other Trading Exchanges.
Difference Between LocalBitcoins and Other Trading Exchanges
When we say "Trading Exchange", the image that pops up for us is the trading-interface, with real-time prices going up and down, and the ability to buy –sell currencies in the real-time.
Something like this (this is the Binance trading view, you can read our detailed Binance review here).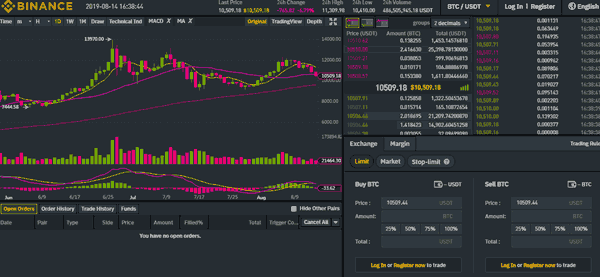 While on the other hand, this is what the LocalBitcoins interface looks like: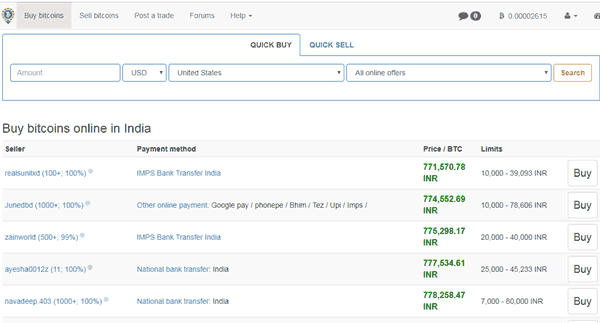 So for one, you can't trade in real-time on LocalBitcoins.
Rather, it's like the eBay of Cryptocurrencies. Sellers list their sale of a coin on the marketplace, and the price. Buyers interested in the coin and agreeing with the price may buy it from the sellers.
In other words, the sellers control and decide the price for which they'd like to sell their coins. So it's more of a P2P (Person to Person) exchange.  Also note that most aspects on the platform are user-controlled and not set by the platform itself.
With the downside of the prices not being real-time, there do exist quite a few upsides to LocalBitcoins as we will explain throughout this LocalBitcoins review.
LocalBitcoins Overview
Before we go any deeper, here's an outline of the exchange and its primary features:
Primary URL: https://localbitcoins.com
KYC:

Optional.

Supported trading pairs:

Extensive

Payment Methods:

Fiats + Cryptocurrencies.

Fee:

0.00005BTC /withdrawal. 00015/Deposit.

Security:

2FA / Escrow / Login Guard

Margin /Leverage Trading:

No

Live Chat:

No

Does LocalBitcoins need KYC?
Up until last year, LocalBitcoins was the best no-KYC alternative for Bitcoin trades, although now it does need KYC-verifications. Fortunately those aren't completely mandatory.
LocalBitcoins by itself can be used completely without verifications. The level and kind of verification required will depend on the specific sale and seller you're dealing with.
Some sellers require no KYC at all, others require phone-verified buyers, while some others may require identity verifications.
My account currently is not verified at all, it only has an E-mail ID which I used to register (E-mail Ids can be anonymous and untraceable).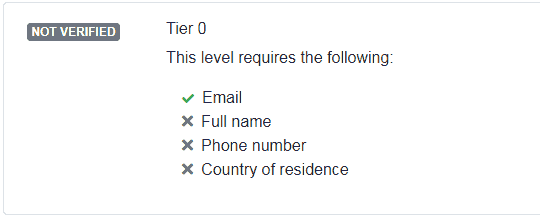 And yet here's a seller who's selling coins without asking for any verification, this establishes the fact that coins CAN be purchased without verifications.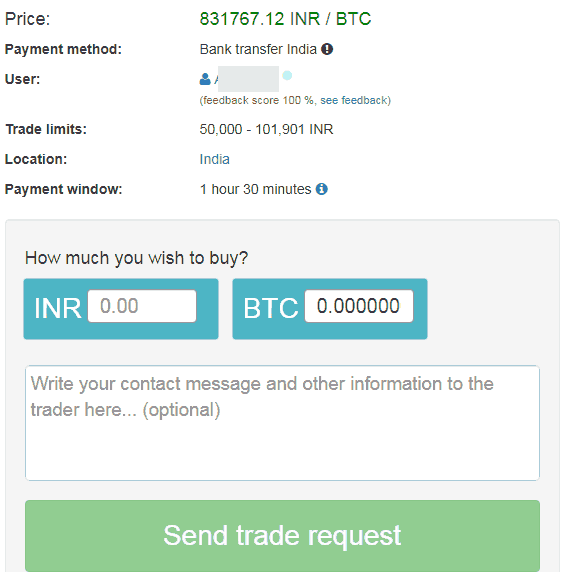 LocalBitcoins has a total 4 tiers of verification:
Tier 0
Tier 1
Tier 2
And Tier 3.
Tier 0 Verifications
Completing the Tier 0 verification requires a user to have an E-mail ID, a Phone number, name and country of residence verified. Although buying /selling and even withdrawing is possible without completing these as well.
Also, no "document uploads" required for the Tier 0 verifications. Simply enter the details on the verification page and you're done.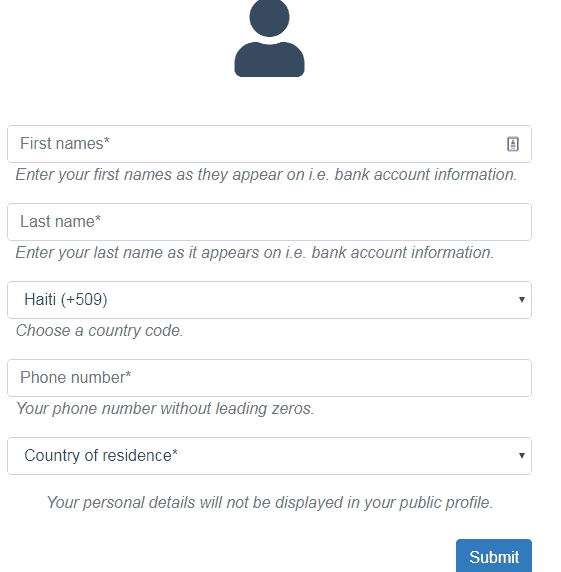 While reviewing the platform, I found that those details can be completely fake and don't have to be true. Although then the next level verifications would not be possible, and hence faking details isn't recommended.
And even if the details entered may be false, it does require a SMS-verification which isn't as easy to fake.
The verification is instant and there's no wait-period or verification-period, here's my account which I verified just now for the very purposes of this LocalBitcoins review.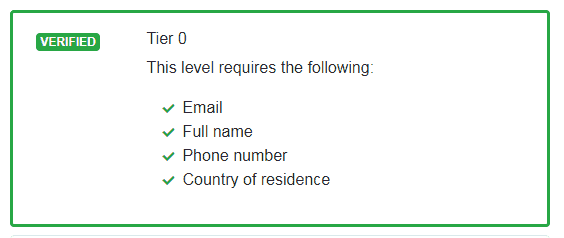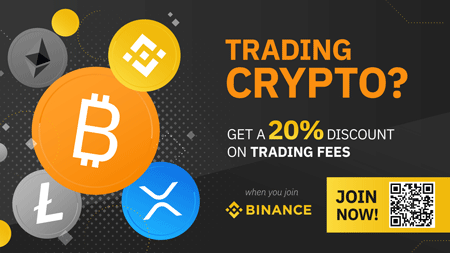 Tier 0 accounts have a limit of 1000 EUR/year trade and incoming-transactions limit.
Tier 1 Verifications
The T1 verifications aren't as anonymous. They require a form to be filled, asking details about the sources of income, political background and so on.
Then they require users to submit an Identity document which may be a Passport, A driver's license or an Identity card.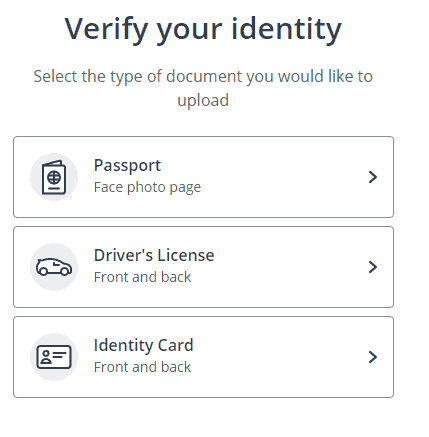 Which documents are supported for the "Identity Card" will be shown on top of the page for each country.
The address too needs to be validated (specified), although no documents are required for its verification just yet.
The trade and transaction limit for this level is 20,000EUR/year.
Tier 2 and 3 Verifications
These need an additional form to be completed (both for T2 and T3 each), T2 needs documents to be uploaded for address verifications.
As for T3, there's yet another form and a Liveliness test, this is the most intense level of verification required.
All in all, LocalBitcoins isn't as anonymous as it once was, yet there's still a bit of leeway users can find solace in.
What are LocalBitcoin Fee and Limits?
LocalBitcoin charges a 0.00005 BTC fee for sending Bitcoins out of your Bitcoin wallets to another third-party wallet.
Receiving/incoming funds to the LocalBitcoins wallet are charged at a 0.00015 BTC/transaction.
3 confirmations are required in the least for a transaction to be confirmed.
The limits are defined by the sellers, for e.g. the minimum-maximum amounts they're willing to sell.
The escrow-limits for a trade too are set by sellers individually. This is the maximum amount of Escrow they allow for users with a specific number of trades/reputation. It's wise to trade within the Escrow limits of the sellers.

There do exist KYC-based limits on accounts, the maximum incoming transaction or trade limit for accounts on each level are:
Tier 0:

1000 EUR/year.

Tier 1:

20,000 EUR/year.

Tier 2:

200,000 EUR/year.
Is LocalBitcoins Safe?
LocalBitcoins is one of the oldest and most trusted P2P exchanges on the globe. Apart from the reputation, the current security features include: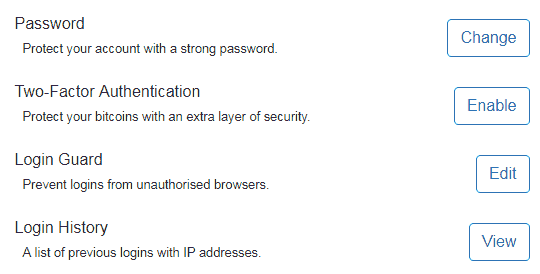 Escrow: So buyers/sellers can't scam each other. Payment receipts and other proofs of payments are used to decide a dispute.
2-FA: There's the traditional 2-FA using Google Authenticator or Authy App, as well as another unique 2-FA mode. The platform provides users with 90 2-FA codes beforehand, which can be printed on a piece of paper and used for all consecutive logins. New codes provided after 90 logins.
Login Guard: Another kind of 2-FA; it sends a verification code to user E-mails whenever logins from unauthorized or new browsers is detected.
Then the platform also displays extensive information about user-profiles, details such as the trade volume, number of confirmed trades (and also the number of partners), verifications (license, Phone number etc). This makes finding trusted and reputed sellers much easier.
What are the Payment Modes on LocalBitcoins?
This probably is the best aspect that can be mentioned in this LocalBitcoins review.
It's capable of accepting just about every payment method that exists on the planet, starting with Cards, PayPal, Bank Transfers, Gift Cards (all major ones), Paytm, Payza, WebMoney, Paxum, Payeer, Neteller, altcoins and even CASH!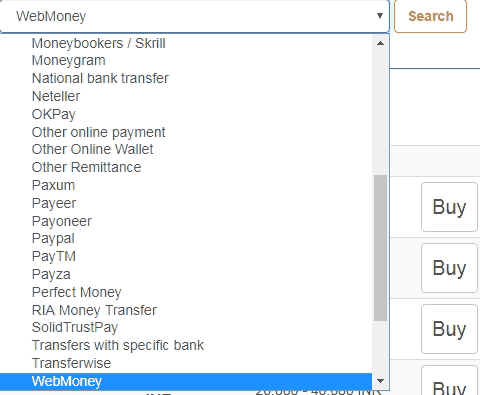 That's so because this being a P2P exchange, the seller may wish to get paid in any of the existing payment methods and all of those are supported by LocalBitcoins.
What are the Trading Pairs on LocalBitcoins?
As is clear from the section above, users can trade fiat via a number of methods (in almost all the currencies) for Bitcoins.
Additionally, users can use the platform to buy and sell altcoins as well. The supported altcoins are:
Additionally, "All" the other Cryptocurrency pairs can be traded when a user chooses "Other Online Payment" or "Other Online wallet" as the payment mode, and the other party is ready to accept some other type of Cryptocurrency.
Which Countries are Supported on LocalBitcoins?
LocalBitcoin being a P2P trading exchange, is available globally. Almost always are two people in a country willing to buy and Sell Cryptocurrencies.
I couldn't find any "restricted countries" list on its F.A.Q, and the country-selector too enlists almost all the countries on the planet.
Conclusion-
As far as my personal verdict on this LocalBitcoins review goes, I'd say it's the most "liberal" exchange of them all.
The limits/KYC requirements, countries, trading pairs etc. are almost without limits, or of varying and extensive limits and only dependent on the other party. Chances of finding someone with favourable limits is pretty easy.
Also, even though the trades aren't based on real-time prices of BTC, these can still be used to trade Cryptocurrencies for a day-trade, or a weekly/monthly trade.

Do let me know what you think of this LocalBitcoins review, and do share your personal experiences (if any) with the platform.