Our hunt for the best Cryptocurrency Trading Exchanges doesn't end, ever. Parallel to the same, we brought you this Bit-Z Exchange review. Bit-Z is a company founded in 2016 and for the past 4 years has been serving the trading community.
Although, Age is neither the only metric, nor the most important factor we look for in an exchange. And we've been trading Cryptocurrencies for well over 3 years now hence we do believe our questions should sync with the question you have before choosing one such exchange.
The questions we'd be answering in this Bit-Z Exchange review are:
Bit-Z Overview
As is the tradition, here's an overview of the exchange before taking you on a deeper insight into this Bit-Z Exchange Review: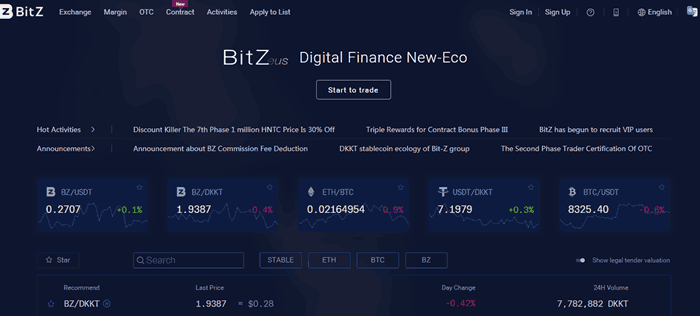 Primary URL: https://www.bit-z.com
KYC:

Mandatory

Trading Pairs:

200+

Payment Methods:

Crypto only.

Fee:

0.18%-0.2% Trading fee.

Security:

Trading Password/ Anti-Phishing Code / 2-FA/ E-mail verification.

Margin /Leverage Trading:

Yes
Does Bit-Z Require KYC Verifications?
If a trading exchange is anonymous, it wouldn't ask a user for identification/documents/verifications of any kind. This allows a user to trade funds without worrying about the funds being linked to their personal identities later.
Unfortunately, Bit-Z isn't one of those exchanges. It requires only real details while registering on the platform (although no name is asked). E-mail verification is required for the account to be activated.
Then, KYC is also mandatory for withdrawals to be possible. So while deposits and trades are still allowed, if you can't withdraw your funds there's no anonymity whatsoever.
It has three KYC-verification levels in total, and completion of atleast Level-1 KYC is mandatory for withdrawals.
Level-1
The level 1 Certification (Verification) is slightly less demanding than the other levels, it doesn't require users to "upload documents". Only specifying the "ID number" of the identification document used is required.

It accepts Govt. issued ID cards and Passports. Other documents may be accepted depending on the country of the user.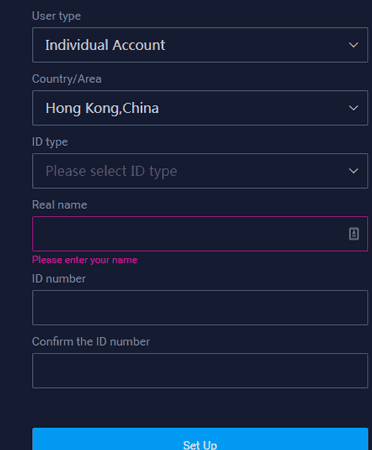 What's impressive is, the identification is completed instantly! There's no wait-period, as soon as a user enters his/her name and ID-number the verification is passed and the following message is displayed: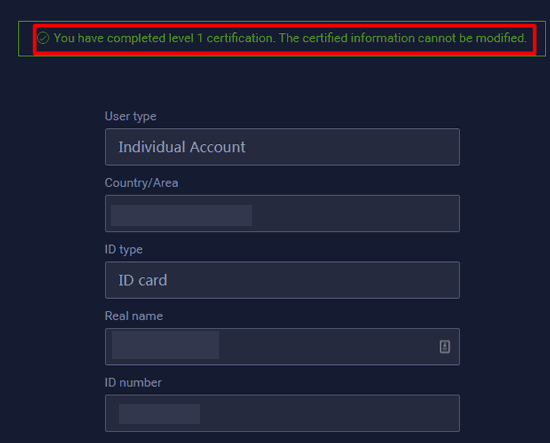 Level-2 and Level-3 Verification.
The Level-2 verification is pretty hardcore. It requires Face and/or Video verification of the individual, and his/her documents.
A QR code is presented when the verification is initiated, the user would need to scan this QR code with his/her mobile devices to get to the verification page.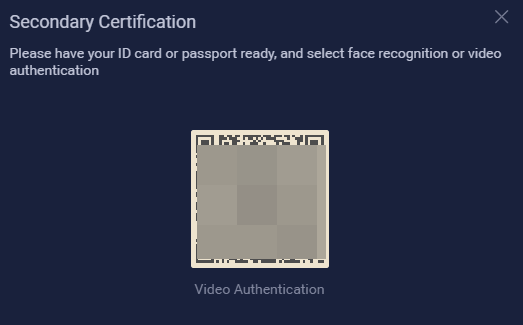 This in my personal opinion is a bit over the top and only makes things harder. Clicking a simple link is much easier.
The Level-3 verifications haven't been attempted by us, It's possible only if you have over 50 BTC funds on the exchange and we aren't millionaires!
Does Bit-Z Accept Fiat Deposits?
No, Bit-Z doesn't officially accept or allow fiat deposits and/or trades. It's a Cryptocurrency-only platform.
While Crypto-only trading exchanges are generally more  anonymous, it isn't true in this case due to its mandatory KYC-requiring policies.
What are the Limits and Fee on Bit-Z?
There doesn't seem to be a minimum deposit limit on Bit-Z. Any amount of funds as long as the network fee is covered seems to be accepted.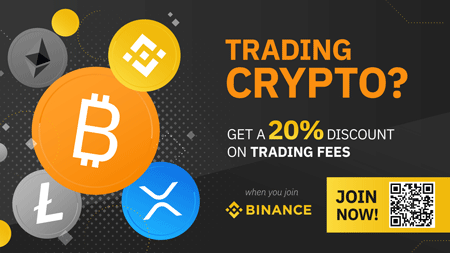 The minimum withdrawal requirement is set at 0.002 BTC for Bitcoin, differs for all other Cryptocurrencies.
The maximum withdrawal limits are controlled by the user's KYC level. Level 1 users can withdraw upto 2BTC every 24hours, and Level 2 offers 50 BTC withdrawals.
Depositing Cryptocurrencies is free. The withdrawal-fee is dependent on each Cryptocurrency, for Bitcoin it's 0.0004 BTC, Ethereum is priced at 0.01ETH.
Unlike most other best Cryptocurrency Trading Exchanges which do not differentiate between "Cryptocurrencies" when it comes to fee, Bit-Z does.
It has categorized its assets (Cryptocurrencies) in two categories- "Mainstream Currency", and "Innovation Currency". The former contains the established and more popular Cryptocurrencies, while the latter is for the newer assts.
Trading Mainstream Cryptocurrencies is priced at 0.18% for Makers, and 0.2% for takers. The "Innovation Currency" is priced at 0.2% both for the Makers as well as Takers.
What are the Security Features on Bit-Z?
We pay special attention to an exchange's security features, the same holds true for this Bit-Z Exchange Review as well. Fortunately, Bit-Z seems to take security pretty seriously.
For starters it has a bug-bounty program and offers prizes for finding vulnerabilities on its website, or Mobile apps. The bounties range from USD $500 to USD $10,000.
The features aren't as unique as the ones we mentioned in our Kraken Review, but are no less impressive. Infact these are the most common account security features most Cryptocurrency trading exchanges offer:
Email Verification
2-FA (SMS and Google Authenticator).
Trade Password.
Anti Phishing Code.
E-mail  verification is used while Logging in, as well as when a user makes a withdrawal or changes in the account security.
2-FA can be enabled via SMS as well as Google Authenticator, the function remains the same in either case. A temporary OTP is sent to the number/Authenticator which needs to be used in addition to the password in order to access the accounts.
Trade Password is a feature for more advanced users, and is only required with OTC trades (scroll down for more information) , or calling API functions.
Finally, the Anti-Phishing code is another basic yet effective measure to prevent scam artists from mailing you and redirecting you to a fake Bit-Z website. Once enabled, all future E-mail communications from Bit-Z will contain this Phishing code to prove authenticity.
The platform however doesn't seem to have cold-storage neither does its support-staff have a concrete answer for the same.
How can Bit-Z Support be Contacted?
Being a professional Cryptocurrency trading exchange, the platform offers a live-chat to get in touch with them. It's available 24X7, and even though isn't extremely fast is pretty acceptable as far as its speed goes.
Apart from this offers a detailed Knowledgebase answering some of the most common questions a user may have about the platform and its policies.
They also can be reached via E-mail although that's not required in most cases as the live-chat solves the problems much faster.
Can you use Bit-Z on Mobile?
Gone are the days when making millions was only possible on a computer. Bit-Z lets a user trade directly from his/her mobile device(s) regardless of it being an iOS or Android based device.
It even offers direct download links of its Android application if you for some reason do not wish to get it from the Playstore.
The interface on Android devices is nothing very unique or new, but is still effective. Here's a screenshot of the same: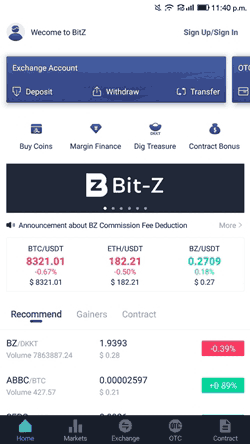 It offers for easy deposit/withdrawals by placing those buttons on the top-bar, the navigation too is made simple from the bottom-bar.
Which Trading Pairs and Countries does Bit-Z Support?
Bit-Z doesn't have any restrictions based on a user's country. So yes, it's available globally throughout all the countries on the planet.
As for trading pairs, it supports the deposit/withdrawals of exactly 210 Cryptocurrencies (yes we counted manually). That means all of those Cryptocurrencies can be trades with atleast one other Cryptocurrency making it a pair.
Hence it's safe to assume that the platform easily supports over 200 trading pairs in the least.
Does Bit-Z Offer OTC Trades?
Yes, OTC trades are available and the platform doesn't restrict users based on their location, and/or payment methods.
Users can buy/sell Cryptocurrencies using Fiat payment modes on the Bit-Z OTC exchange, although it's not as well-populated as the OTC-exchange we discovered in our LBank Review.

The accepted fiat payment modes are WeChat, AliPay, Western Union, Bank Account, Neteller and PayPal. Does have a "verified dealer" button which helps users easily find more established and trustworthy dealers.
Final Verdict:
Let's wrap this Bit-Z Exchange Review up? So it Bit-Z worth it? Well I'd say Yes and No. Yes if it's just a feature-rich Cryptocurrency trading exchange you're looking for, No if you value your anonymity and privacy.
Also considering how you're already giving up your privacy on the platform, the unavailability of fiat deposits is actually "lack of options" rather than a privacy-enhancing feature.
Do you agree with this Bit-Z Exchange review? Let us know your opinion, doubts, questions or just share a couple words using the comments.