We recently landed on another trading exchange during our research. While not overwhelmingly impressive, it did seem to offer a couple desirable features. So if you've been on the hunt for a new exchange, this P2PB2B Exchange Review might be worth your while.
Note that this P2PB2B Exchange Review is as objective as possible. We used the exchange, studied its policies and requirements and simply brought them forward. We at no point are endorsing the exchange or claiming it to be the best.
The goal here is to educate you on the features (or the lack thereof) of the exchange, and help you make an educated decision.
The following questions we believe will get you a transparent overview of the exchange:
For a newcomer, we believe there won't be a lot left unanswered about an exchange once you go through the list. Don't you agree?
P2PB2B Overview
A brief overview of the exchange before getting into a more detailed insight:
Primary URL: https://p2pb2b.io/
KYC:

Mandatory

Centralized:

Yes

Supported trading pairs:

350+

Deposits:

Fiats + Cryptocurrencies.

Fee: 0.02% Trading fee (Static)
Security:

2FA / Cold-Storage.

Android App:

Yes.

iOS App:

Yes

Margin /Leverage Trading:

No
Does P2PB2B Exchange Require KYC Verifications?
The very first thing I look for in an exchange is anonymity. Any Cryptocurrency trading exchange which requires KYC verifications falls down my favourite-list pretty quick.
Unfortunately, P2PB2B is one such exchange. On the surface it may look pretty liberal and welcoming. This is what the registration page looks like: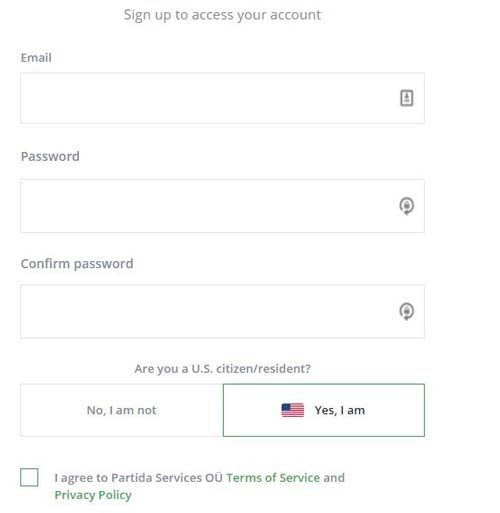 As is evident, it doesn't ask you to verify your Mobile number, or upload any documents. Although unfortunately, the real trouble shows itself when you wish to "withdraw" funds.
While depositing funds (Cryptocurrency) and trading on the exchange doesn't require any verifications, withdrawal is only possible after you've verified your identity.
This is what the standard verification form looks like:
So you're required to enter your Name, Date of Birth, and Gender. Then you're also asked to enter your complete address (Country/State/Street/Zip Code).  And finally, we're presented with the following screen: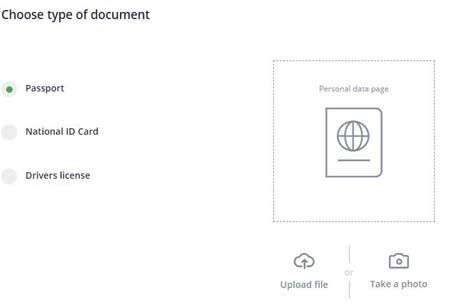 This requires us to upload one of the three documents:
Passport
Issued ID Card
Or Driver's License.
So in a nutshell, P2PB2B isn't an anonymous exchange and requires extensive personally identifiable information and documents.
Although the KYC verification isn't layered alike what we saw in our Paxful Review or OKCoin Review. Rather, one single verification is all that's required.
How can you Deposit/Withdraw Funds on P2PB2B?
This is a more impressive aspect on this P2PB2B Exchange review compared to what we just saw. The platform supports both the primary methods of deposits, viz. a viz. Cryptocurrencies (over 200) and Fiats.
This is desirable, considering how you don't need to "pre-own" Cryptocurrencies in order to start trading on the exchange. Buying Cryptocurrencies directly using Fiats is possible, unlike what seemed to be possible in our OKEx Review.
Fiat payments can be made via a number of processors and Providers:
Simplex
Advcash
Payeer
Epay Com
Perfect Money
Capitalist
 This is one of the most provider/processor-rich lists we've encountered so far.
What are the Fees on P2PB2B Exchange?
Without doubt, the fee is a crucial part of this P2PB2B review isn't it? Regardless of its features, any platform which doesn't have reasonable fee won't actually be an ideal choice.
The three primary fees on any standard Cryptocurrency trading exchange are:
Trading Fee
Deposit Fee
Withdrawal Fee.
Trading Fee
Fortunately, P2PB2B seems to be on the logical and simpler side with its fee. For starters, unlike most other exchanges which employ a "maker-taker" model for their trading fee P2PB2B uses a static model.
It charges a fixed 0.2% fee both for the Makers as well as the Takers. While there may be other exchanges offering lower fee, that's only unlocked for million-dollar traders. For most starter accounts, 0.2% is (about) the right amount of fee you pay on any other best Cryptocurrency trading exchange out there as well.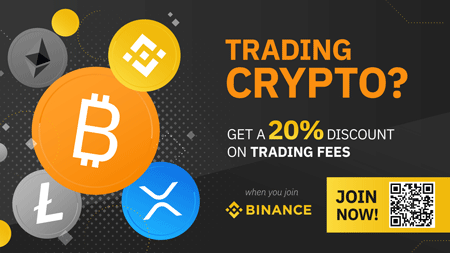 Deposit and Withdrawal Fees
Depositing USD/EUR via any available mode (except Simplex) is charged at  4% (Minimum USD/EUR 5.00, Maximum USD/EUR 100.00).
Buying/Depositing Cryptocurrencies using Simplex costs 5% of the transaction, with a minimum requirement of USD $10.00/transaction.
Withdrawing fiat via any other mode except Capitalist is priced at 5% with the minimum requirement being USD/EUR 10.00. While Capitalist is a bit less demanding and allows withdrawals for 4% of the transaction (min. USD/EUR 10.00).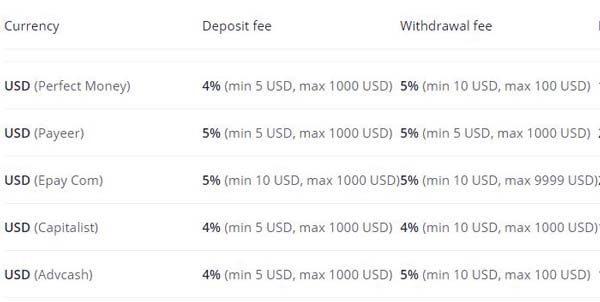 Cryptocurrency Deposits are free for almost all the Cryptocurrencies, with a couple exceptions.  The paid-deposit coins are charged either on a "percentage", a "fixed price", or a combination of both:
ARRR:

0.1 ARRR/deposit.

CTAG:

2%

OCG:

0.001OCG + 4%

DYNMT:

4%

XTZ:

2%
The withdrawal of the Cryptocurrencies however isn't free and all the Cryptocurrencies can be withdrawn only for a price.
The price differs for each Cryptocurrency, however for BTC it's 0.001 BTC and for ETH it's 0.015 ETH. For the other coins too it's at par with what the other best Cryptocurrency trading exchanges are charging.
What are the Minimum Deposit/Withdrawal Limits on P2PB2B?
Another aspect you need to pay attention to is the minimum requirements. What if an exchange has very high minimum deposit or withdrawal limits? They won't serve your purpose, will they?
The minimum fiat deposit possible via Perfect Money, Capitalist and Advcash is USD $10.00. For Payeer and Epay Com it's USD $ 20.00.
For EUR deposits, the minimum accepted amount is 0.1 EUR via Capitalist and 10 EUR via Advcash.
As for fiat withdrawals, USD can only be withdrawn for a minimum of USD $20.00 via any available withdrawal method. A minimum of 0.1 EUR can be withdrawn via Capitalist, and EUR 20.00 via Advcash.
Most Cryptocurrencies do not have a minimum limit (with some exceptions). While withdrawal limits are Currency-specific. For BTC and ETH it's 0.002 BTC and 0.05 ETH respectively.
Is P2PB2B Exchange Safe?
One of the less answered questions I've seen with exchanges is their safety. Is the exchange secure-enough for users to trust it with their funds?
So we dug around, and fortunately P2PB2B does seem to have (or atleast claims to have) Cold-storage for user-funds. It says over 95% of user-funds are stored in its cold-storage and hence they can't be hacked externally or over the Internet.
Additionally, they're one of the very few exchanges which have an active Bug-Bounty program. Rewards range from USD $300.00 – USD $500.00 based on a threat's potential damage. This shows their interest as well as seriousness of keeping their platform secure.
As for account security, it offers 2-FA which can be enabled via any 2-FA app (such as Google Authenticator). Additionally, active Sessions for the account are shown in the user-account as well and can be terminated when not recognized.
Which Coins and How Many Trading Pairs are Supported?
The availability and number of coins is ultimately the backbone of an exchange, isn't it? If it doesn't offer the coins a user wishes to trade, none of the other features would be worth anything.
As for coins and Tokens, the exchange supports over 125 of them individually. Talking of "trading pairs", the exact number of available trading pairs is exactly 350 as of today.
While the numbers may be impressive, we noticed the platform lacks a number of popular and my personal favourites such as XRP and XMR.
The platform does however boasts the ability to process as many as 10,000 trades/second which is a pretty impressive number.
Which Countries are Supported by P2PB2B?
There are no clear indications about the same. But it does explicitly ask on the registration form is the user is from U.S or is a non-U.S user.
Additionally, its T&C page mentions that trading activities may be restricted in part or in full for the citizen of:
France
U.S.A
Canada
UK
Australia
Japan
China.
So it surely isn't as Geo-liberal as the exchange we talked about in our Paxful Review.
How is P2PB2B Support?
Let's start with the fact that it does offer live-chat. The chat despite being live, isn't extremely fast, or helpful. Most replies take minutes. But more importantly, the representatives simply stop replying at times.
Infact, they even leave the chat without any notice to the user. Moreover, the answers aren't very exact and rather links and vague answers are presented. (Although it may depend on each individual representative).
The company does mention being able to offer support not just in English, but also in Chinese, Japanese, Russian, Spanish, Indonesian, German and Korean so that's impressive.
In a nutshell, the Live-Chat isn't impressive per-se but is acceptable. Apart from that, obviously the exchange can be contacted via Tickets.
P2PB2B Exchange Pros and Cons
Lastly, let's sum up all the Pros and Cons we dug out throughout this P2PB2B Exchange Review:
Pros:
Easy and Traditional Interface.
Secure
Extensive payment methods.
Quantitatively impressive number of coins.
Cons:
Mandatory KYC for Withdrawal.
Not Impressive support.
Some major coins not supported.
Final Verdict:
So wrapping this P2PB2B Exchange Review up, I'd say the platform is totally impressive if purely looked at from a Cryptocurrency Trading Exchange perspective. But, if it's an "anonymous exchange" you're looking for, the platform won't fit the bill.
Except the slightly disappointing support, and lack of some of the coins there aren't any major reasons to reject P2PB2B just yet.
Do you think the same? Or does your opinion differ from this P2PB2B Exchange Review? Let us know in the comments.