Today in this IDAX review, we'd be talking about IDAX. Is IDAX the best Cryptocurrency trading exchange? No, not yet as far as our personal opinion goes. But it's still here because it brings with itself most, if not all that we seek in one of those best trading exchanges.
All of our reviews are written from a "Trader's" point of view, so regardless of you being an avid, everyday trader, or someone who trades once in a while this IDAX review does have the potential to get you your next trading partner.
That been said, this review isn't sponsored or compensated in anyway by IDAX. So eveh1ry ounce of data in here is totally based on its merit and not on any kickbacks from the company.
The primary questions we'd be answering in this IDAX review are:
IDAX Overview
This IDAX overview will save you time and let you glance over all the available features that IDAX brings with itself in a fizzy!
Primary URL: https://idax.pro
KYC:

Mandatory for Withdrawals

.
Supported trading pairs:

200+

Payment Methods:

Cards + Cryptocurrencies .

Fee:

0.1 – 0.15% Trading fee

.
Security:

Cold-Storage/ Anti-Phishing / 2-FA/ E-mail Verification.

Margin /Leverage Trading:

Yes
Is IDAX Anonymous?
You may or may not wish an exchange to be anonymous, but I sure do. An anonymous exchange means they wouldn't ask you for identification, and won't know at any time the exact person who's making the trades and hence the profits/losses.
Unfortunately, IDAX isn't one of those exchanges. It allows for completely anonymous registrations, as well as deposits. This may trick users into believing it indeed is anonymous.
However, only when a user proceeds to registrations does the KYC-requirement present itself. No amount of funds can be withdrawn without identity verifications.
The verification is divided into three levels – Level 1, Level 2 and Level 3.

Level 1 Verifications
This is the minimum verification required for any withdrawals to be possible. It requires a user to specify their country, First and Last name, as well as the ID number of the document which they'll be using to verify their accounts.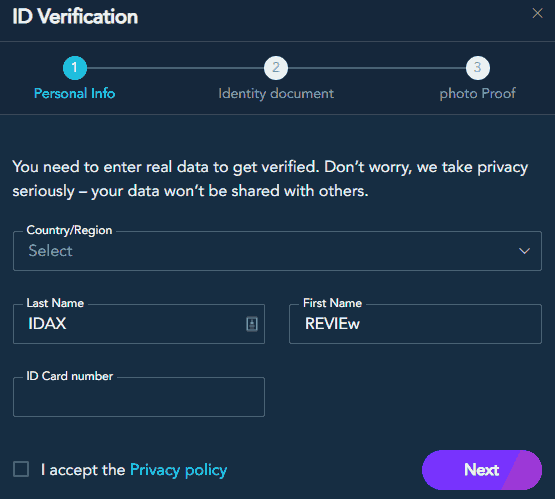 On the next step, an identity-proof needs to be uploaded which can either be a govt. issued ID, Passport, or Driver's License.
Then, it also requires the user to hold the uploaded document in their hands, along with IDAX and the current date written on a paper note .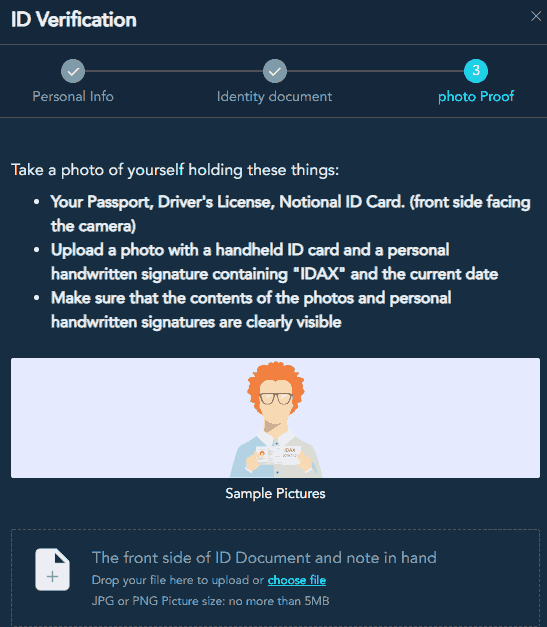 Only after all of this has been uploaded by the user and verified by the team can a user start withdrawing funds.
What makes matters worse is, even after all of this verification only a maximum of 2 BTC can be withdrawn every 24 hours. If you've gone through our Binance Review you'd notice that Binance offers the same privileges without any verification at all.
Level 2 Verifications
These are only available after completing the Level 1 verification. The benefit of this is the user can now withdraw 100BTC every 24 hours.
It requires the user to download the IDAX Mobile app and complete the verification there. While it's not as hardcore as the Skype verification we talked about in our OkEx review, it still is a major blow to privacy.
Level 3 Verifications
The limits can be extended beyond the 100BTC amount as well. Although we haven't tried doing so.
It requires manually contacting the team and letting them know of the desired requirement. The verification process too would differ and probably be a lot more hardcore.
Bottomline, IDAX isn't an anonymous Cryptocurrency trading exchange.
What are the Deposit/Withdrawal Methods on IDAX?
IDAX isn't a Crypto-only exchange, and also accepts deposits via Fiat methods. While fiat deposits generally aren't recommended by us, It doesn't matter on IDAX considering how it's not an anonymous exchange anyway. Hence fiat deposits are just as good as Crypto deposits on IDAX.
Cryptocurrencies can be deposited by selecting "Balance > deposit" from the top bar, and then selecting the desired Cryptocurrency.
All the Cryptocurrencies which can be traded on the platform, can be directly deposited as well.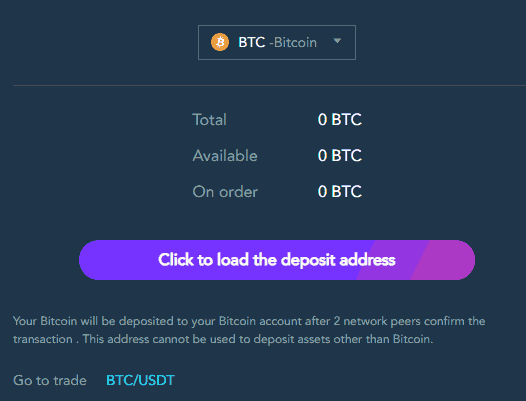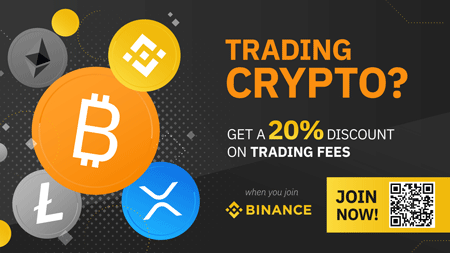 As for fiat deposits, the platform uses Simplex as its fiat payment processor. Users can use VISA and Mastercards to buy Cryptocurrencies directly on the platform.
Although not all Cryptocurrencies can be purchased directly, only BTC, XRP, ETH, LTC and BCH are supported at the moment.  These however can be converted to any other currency later on the trading page.
What are the Limits and Fee on IDAX?
IDAX doesn't have any minimum limit for Cryptocurrency deposit. No fee is charged for the same either.
As is almost always the case, the withdrawal fee as well as the minimum withdrawal  requirement of each Cryptocurrency deposits on the currency itself. The minimum withdrawal requirement for BTC is 0.001BTC and for ETH it is 0.01ETH.
Withdrawal fee for BTC is 0.0003 BTC, and for ETH it's 0.005 ETH/withdrawal. Note that other Cryptocurrencies can be withdrawn as well except BTC and ETH.
As for Fiat deposits, Simplex charges a 3.5% fee on each deposit, or a minimum of USD $10.00 if the 3.5% of the deposited amount is less than USD $10.00
The minimum fiat deposit allowed via Simplex is 50 USD/EUR, while the maximum limit is USD/EUR 20,000.
The trading fee on IDAX isn't dependent upon a user's trade-volume, rather it's fixed at 0.1% for the Maker & 0.15% for the Taker.
Is IDAX Secure?
In a word – Yes. The platform offers a number of security features to protect user accounts from being hacked, including:
2-FA via SMS and/or via Google Authenticator.
Fund Password.
Phishing Code.
Withdrawal-Email verification.
2-FA isn't mandatory unlike Kucoin's policy (read Kucoin Review). Once enabled, it's required for Login as well as withdrawals. Google Authenticator if enabled also controls account changes.
Fund-Password as the name indicates protects funds and asset-related actions. The Phishing-code can be set to anything a user wants. This is then sent along with all the E-mails sent out by IDAX to prevent scam mails.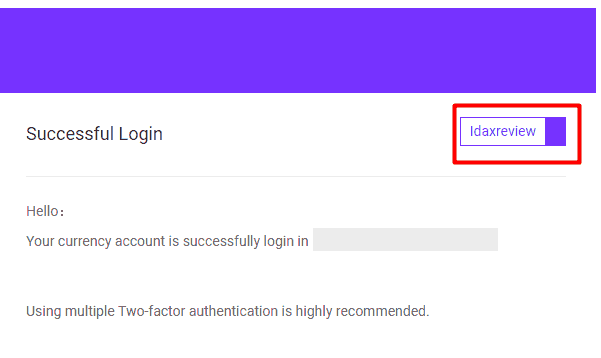 Other security measures which provide for an overall security (outside the user-account) are:
IP monitoring
Withdrawal monitoring.
Cold Storage (only 0.5% of the total funds are kept in online wallets).
DDoS protection.
Automatic backups.
All in all, the security precautions (if they are all implemented) are more than satisfactory.
Which Coin Pairs Can you Trade on IDAX?
IDAX's currency-support is pretty impressive. Almost every currency that we wanted to trade had a trading-pair available.
The primary trading pairs are with BTC/ ETH/ TRX and USDT. Taking it on its face-value, it's safe to assume the platform supports 100+ individual currencies, and hence 200+ trading pairs in the least.
Does IDAX Support OTC Trades?
Yes, IDAX does support Over-The-Counter trades. What this means is, users can use the platform as a P2P (Person to Person) exchange as well.
This lets a user find other users who're willing to offer a desired price, and to avail other payment modes not officially supported by  the platform.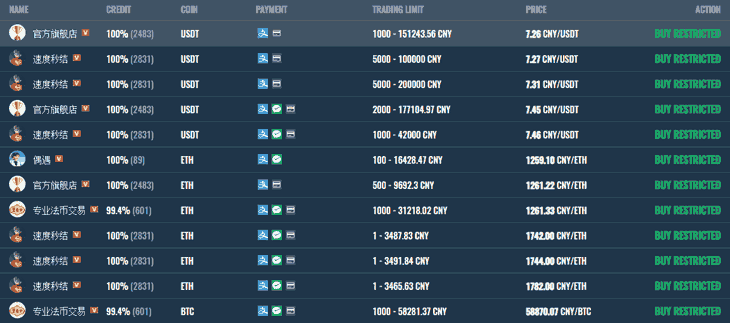 For e.g. some users accept payment via AliPay, Bank Cards, WeChat etc. Although OTC trades are primarily available only for Chinese residents (unless you find a buyer/seller accepting payments from other countries),  they do require KYC verifications as well.
If you need a P2P exchange which is available globally, doesn't need KYC and is trustworthy our LocalBitcoins Review might be worth a glance.
How to Contact IDAX Support?
IDAX Support is one of the more impressive features we can mention in this IDAX review. The primary method to reach the support team is via live-chat which is available 24X7.
The team doesn't seem to be of native English-speakers, but from personal experience we can vouch for their English being understandable and without any problems.
They have support channels on Telegram as well for English, Korean and Chinese customers individually. Then obviously they can be reached via E-mails.
Is IDAX Available on Mobile?
Absolutely, infact the Level 2 verifications has the Mobile-Phone requirement as well. The mobile interface slightly differs from that of Binance, KuCoin or most other best Cryptocurrency trading exchanges.
It has a well-placed "Rise List" which shows the Cryptocurrency which increased by the most, then there are options for "IDAX Select", "Global Market" and "Capital Market".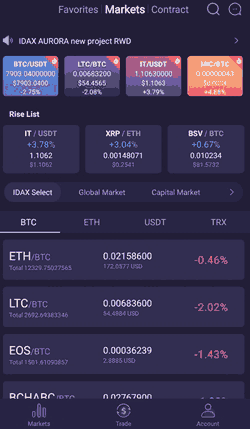 Popular trading pairs are displayed right there on the welcome-dashboard. Users can navigate the app using the bottom-bar options for Account, Trades or Markets.
Final Verdict on IDAX Review
Let's wrap this IDAX Review up. In my personal opinion, it's clearly one of the best Cryptocurrency exchanges in terms of trading-pairs, ease of use, security, deposit/withdrawal methods and minimum-requirements.
As for IDAX Supported countries, It's is available Globally and doesn't have any geographic restrictions either!
The only downer for me was its mandatory KYC-verification requirement, which even after the KYC didn't offer very impressive limits.
So all in all, it sure is an option even though not the first. Do you agree with this IDAX Review? Or maybe not? This review isn't for me, it's for You, so why don't you let us know what you think of the company?